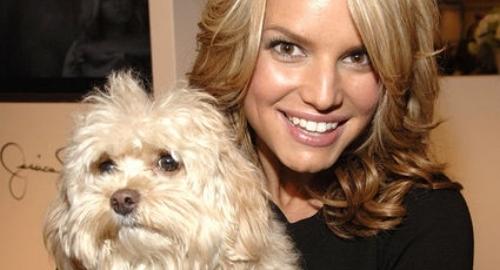 ---
Celeb Jihad has found Jessica Simpson's missing dog "Daisy".
Yesterday a distraught Jessica Simpson went on Twitter and posted a panicked tweet for help.

"My heart is broken because a coyote took my precious Daisy right in front of our eyes. HORROR! We are searching. Hoping. Please help!"
Not one to stand ideally by while a beautiful buxom blonde is in need of assistance I immediately set out to track the dog-napping coyote.
I picked up its trail outside of Simpson's residence and followed it out into the desert. After nearly 24-hours of pursuit, and the senseless slaughter of numerous coyotes I thought looked like they could be the one, I finally came upon the coyote that took Jessica's dog.
Luckily I had gotten there just in time as the coyote had just released the dog. Of course I snapped its neck anyway just for causing Jessica distress.
Anyway here is a pic Jessica Simpson's dog Daisy I rescued from the coyote. I'll be happy to bring it back to her when I receive the reward money.