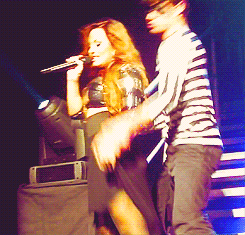 ---
Former Disney star and current "The X-Factor" judge Demi Lovato gets her butt felt up while performing in the video above.
It is a good thing Demi's hamburglar-looking homoqueer backup dancer probably already has AIDS, or he'd get infected by grinding on Demi Lovato's enormous ass. Demi's booty appears to have gotten so big that if she were to back that thing up and then drop it like its hot, she'd certainly shatter this guy's pelvis.
Demi Lovato should go back to being a bulimic. Not that she was skinny back then, but at least her ass didn't look like two pigs fighting over a milk dud.